Welcome Kids,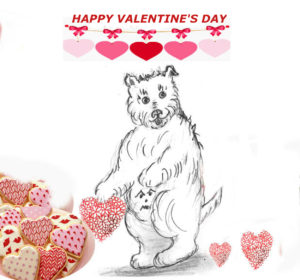 It's almost Valentine's Day. Get ready for hearts, hugs and a bouquet of  flowers.
Stubb, am I your SPECIAL valentine? I want to be your valentine. A terrific Talking Tummy makes a good valentine, a SweetHeart Valentine.
"TT, hearts are red, flowers are blue, sometimes I get TIRED of you! Your complaining makes me cross, stop trying to be the boss!"
Hearts are pink and flowers are red Stubb, I don't like what you said!
"Hearts are pink and flowers are white, let's be friends and NOT FIGHT. Sorry, TT, it's your huge, tiring APPETITE!"
I thought Valentine's Day is about LOVE and were friends, kind of.
"Yes, we're friends and I do care, a TALKING TUMMY is RARE."
So sorry that I Gobble and Munch, Stubb, my BIGGEST FEAR is missing LUNCH!
"We're Valentine Friends forever and ever, TT, that means we'll always be together. Forget your fears and enjoy the day we're crashing the church buffet."
TT and I wish for you, lacey red and pink hearts, lots of friends and of course, some crunchy, munchy, yummy Valentine cookies covered with creamy white frosting and sugar sprinkles.
Happy Nibblers See you soon,
Stubb and TT