Grandparents, Grandkids, Granddogs
By
Hi Friends,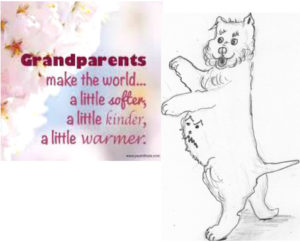 September is the month to celebrate our Grandparents.
TT alert! Grandparents! Who Cares?? Your Terrific Tummy is HUNGRY!!
Besides we don't have Grandparents. Forget it, Stubb. Dogs are left out!
"TT, a Terrific Tummy doesn't complain. A Terrible Tummy always complains, cries and bosses and is HUNGRY!"
Get movin!  Follow that family with a dog. The old gal is carrying a bag of food. Maybe it's picnic time.
The family sits down at a picnic table. I creep into in the bushes close by.
Their fuzzy gray puppy jumps into the old gal's lap."I just love my Granddog. Fred is so soft and warm." She reaches into her bag and gives Fred a cookie and a hug.
TT alert! I want to be a GRANDDOG'S TUMMY, NOW!
"Calm down! It's time to look and listen."
"Mother, I'm so happy you like our puppy. I'm glad you realize that Fred is almost like having a grandchild."
"Emily, I am free to babysit anytime for dear little Fred." She gives him another cookie. "You're my sweet Granddog".
Emily pulls out her phone. "Mother, let me get your picture with Fred."
TT alarm! Stubb, find a grandmother without grandkids. She might be looking for a granddog. That's an order.Get movin!
"Ouch! I'm looking! I'm moving!"
I creep out of the bushes and walk through the park. Everyone is with friends or family. I don't know . . .
Look for a loner, a loner with food.
I see a cane leaning against a bench. Two people are sitting on the bench.
Watch out Stubb! They've got white hair. Maybe they're too old to want a granddog.
I trot up to the bench. I stretch my lips and puff air out my nose. My delightful smile pops out.
"Gary, we come here everyday. I've seen this handsome dog before. This is the first time he's come over to visit us."
Gary takes a cookie out of his pocket."Marian, he's smiling at us!"
I wiggle up to these senior citizens. I rest my head on Marian's lap, she hands me another cookie.
TT is yelling. We've found them. Our grandparents!! 
"We have time for this dog.  Our daughter and son in law are busy with their work," says Gary.
"We don't have any grandkids. This happy fellow can be our  Granddog." Marian pats her purse. "I always carry lots of dog biscuits."
Gary takes out his phone. "Marian, lets get a picture of this sweet dog. I'll send it to our daughter."
TT is giggling. My tail wags out of control.
Gary takes the picture. "We'll see you tomorrow," says Marian.
TT screams, LIFE IS GOOD FOR A GRANDDOG.
Kids, don't forget to give your grandparents a hug. Listen to their  memories and feel their special love.
Stubb and TT
"Grandparents are like stars. You don't always see them, but you know they're there." — Unknown