By · Leave Stubb a Comment -->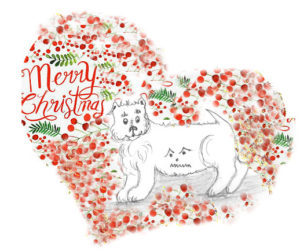 Hey Kids,
It's almost Christmas!  It's time for some yummy
MUNCHIES.
MUNCHIES!! What about Christmas dinner for me? TT your TERRIFIC TUMMY is HUNGRY! I'm STARVED!!

I do a fast squish plop plop and follow a big dog across the street. I end up behind him. His long brown tail pokes me in the face. He turns around, "Merry Christmas Fuzzy Fellow. Are you looking for a friend?"
"I'm looking for some Christmas dinner?"
"Follow me Fuzzy. "There's food ahead."
TT yells, Stubb! Don't let this kind, generous guy escape.
A few minutes later, we walk up a long driveway, toward a huge, gray house.
The Shepherd introduces himself. "My name is Tank and I live here with the Brigg's family."
"I'm Stubb. Will your family mind having another dog visit them? I'm hoping for a Christmas dinner."
"No, they're busy with little Fin. He's always sad and crying."
TT alert. Who cares, about this kid? Get the food, lots of food, and scram. Stubb, that's an ORDER.
" You are definitely a TERRIBLE TUMMY!"
We go through a back door and into the kitchen. The maid turns around, "Tank, you're back."
Tank wags his tail. I roll over and sit up.
The maid smiles at me. "Aren't you a cute fellow! "She pats me on the head. "I have lots of food for two hungry dogs."
Tank and I gobble leftover turkey topped with mashed potatoes and gravy topped off with two large rolls and butter.
TT is jiggling, wiggling and giggling.
Just as we finish our Christmas dinner I hear crying.
Tank looks around, "That's Fin. Let's go! Maybe, we can cheer him up."
Tank and I follow the maid down a long hall. The crying is louder now. "I want my mother!"
TT checking in. Grab some more rolls and butter. Scram out of here. Who cares about this noisy kid!
I ignore TT and trot into the bedroom.
A boy with tears and a thin, white face is sitting up in bed. The maid hurries to him. "Fin, you're okay. Your parents will be home later. Look! You have a Christmas visitor!"
Fin stares at me. I wiggle up to the bed.I jump and sit next to him. I puff air through my nose, spread my lips, and my smile pops out.
Fin hugs me and laughs. "I like his ears." He pokes my tummy. "Look at his fat tummy! He's a squeezy fellow."
TT growls. What! Fat Tummy! Fin needs glasses!
I jump off the bed, roll over and play dead. Fin slides out of bed and walks slowly over to me.
The maid claps her hands. "Fin, your parent's will be so happy when I tell them you are walking around!"
Suddenly, there's an explosion!! The room fills with smoke.
The maid and Tank run out into the hall. I hear a crash and a scream. Tank is yelping!  I look around. I'm alone with Fin!
TT alarm. I'm scared. Get movin! RUN! Save us!!
Fin rubs his eyes. "I can't see!" I hurry to the door and run back to him again and again. Finally, Fin gets the idea and follows me. He holds onto my neck. We crawl out of the room and down the hall. I can hardly breathe and my nose isn't working.
TT panic! Watch out for the fire. A burnt tummy can't EAT!!
A fireman hurries toward us. He picks up Fin. I follow him out the front door. Fin's parents come running. "My prayers are answered! Fin, no one could go back into the house." The father turns to me. "This dog is a hero!"
The maid wipes tears from her eyes. "The dog came to the house with Tank. I had no idea he'd be our Christmas miracle."
My heart has the HAPPIES!! I love being a HERO and a Miracle.
TT and I stay with Tank and Fin for a few days. We gobble lots of food. I get loads of pats, hugs and reminders that I'm a brave HERO. Finally, I wag my good-bye. "Tank, Happy Holidays! Yes, I'll be back to visit you and check on Fin."
Have a Wonderful Christmas Season.
See you in the New Year.
Stubb the HERO, and TT xoxo