A Year Full of Happies
By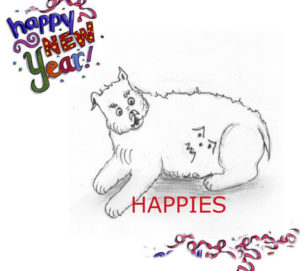 Hey Kids,
TT and I are dancing and munching into this exciting New Year.
My resolution for 2018 is to have Patience with TT, my terrible Talking Tummy.
Thank you for patience, Stubb. I'd like to be a terrific Talking Tummy in 2018, but I'm not sure I can do it. I definitely plan to EAT more food. Actually, I'll fill up the tank with ANY FOOD that's around.
"TT, when you yell, boss and pinch I really don't like you, but I'll try harder in 2018"
Who Cares? You can't get rid of me I'm your very own hungry tummy, so there!
"What about friendS in 2018?  TT, you don't have any friends."
What! Stubb, I thought you were my friend. 
"Sorry! When you are a terrible Talking Tummy, I'd like to get rid of you! I don't want you and I don't like you. I wish you'd disappear! "
Now he's crying! I'll try, I'll really try to be terrific. Please, like me. Remember, no-one else has a Talking Tummy. I think I'm kinda special.
"Right! I'm never alone and we both love to eat but . . ."
Stubb, listen! My New Year's resolution is to be NICE to you, and try hard to be TERRIFIC!
"TT, don't cry anymore. I'll work on having more patience with you."
Please, will you be my FOREVER friend? 
"Yes, TT, I'll be your friend. Everyone needs someone. Even a HUNGRY, NAUGHTY friend like you. Our goal is making new friends in 2018."
Happy New Year, Kids. Make your days count and be the BEST you can be.
Stubb, what does BEST mean?
"It's different for each person. But most of all, hang onto the things and people that fill you with the HAPPIES; your family, friends, hobbies, books and most of all your favorite FOODS!!!  Don't waste a single day.
Stubb and TT